Available with a single drop or a double drop dispenser.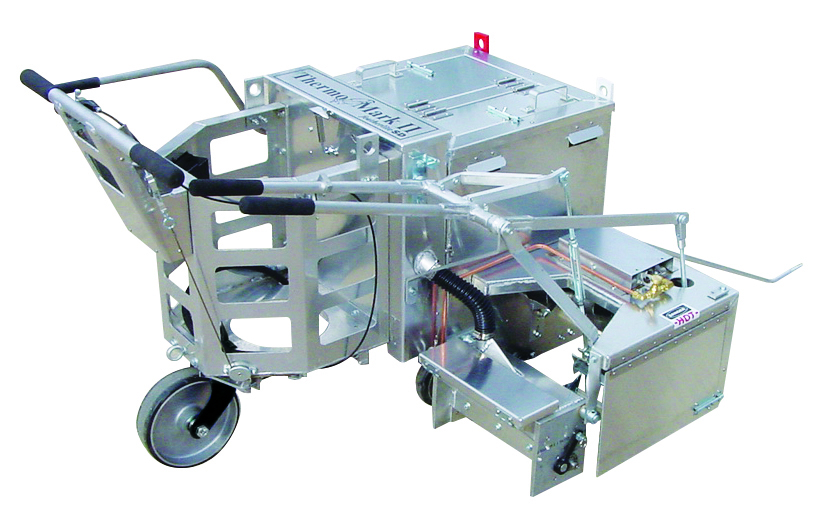 Thermoplastic Applicator with 250lb. Reservoir
The ThermoMark™ Series Handliner is built with extremely durable aluminum construction. Exclusive features like insulated reservoirs and a modular design have made them the preferred thermoplastic applicators with professionals throughout the industry.
EPIC Solutions offers the industry's only aluminum Handliner that is compatible with our steel die.
Thermoplastic Crosswalk Application
Credits: M&M Striping & Power Washing – Texas,  ThermoMark 250/300, and Steel Dies.
| | |
| --- | --- |
| MATERIAL CAPACITY | 250 LBS / 114 KG |
| APPLICATION DIE WIDTH | MIN. 4", MAX.12" STANDARD |
| CUSTOM WIDTH AND DUAL LINE DIES AVAILABLE | CUSTOM WIDTH AND DUAL LINE DIES AVAILABLE |
| HEATING TYPE | PROPANE (20 LB. BOTTLE REQUIRED) |
| DIE HEATER | INFRARED |
| EMPTY WEIGHT | 255 LBS / 116 KG |
| MAIN BURNER | TWIN RANSOME / 40000 BTU |
| GAS CONTROL | HONEYWELL |
| BEAD DISPENSER | Wheel driven beader with application rate proportioned to ground speed |
| DISP. WIDTH ADJUSTABLE | 4", 6", 8", 12" AND OFF POSITION |
| MANUAL FRONT POINTER | ADJUSTS FOR ALL DIE SIZES |
| WHEELS | Dual solid front and single solid rear wheels provide smooth operation |
| MATERIAL AGITATION | MANUAL / HORIZONTAL SHAFT / REVERSE PITCH / FLOW PADDLES |
| SHIPPING WEIGHT | 450 LBS / 205 KG CRATED |
| CONSTRUCTION | ALUMINUM WITH BOLT-TOGETHER ASSEMBLY |
| TURNING RADIUS | 360° |
| BEAD CAPACITY RESERVOIR | 50 LBS. / 23 KG |
| DIMENSIONS | 52"L X 40"W X 37"H |