Mini-Winder™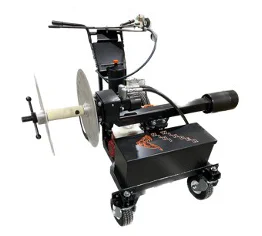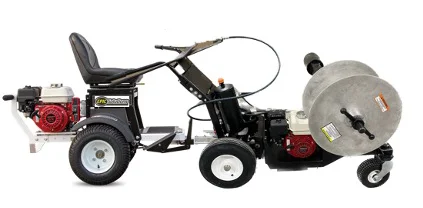 The WINDER Series are the roadway striping industry's most functional and versatile temporary tape-removing machines.
MINI-WINDER™ Features & Benefits
The MINI-WINDER™ are SAFE, EASY, FAST! This type of tape removal equipment has been used for years,  by one of the largest pavement marking contractors in the USA, with exceptional feedback. Millions of feet of temporary tape were removed.
With an industry focus on SAFETY, the MINI-WINDER™ reduces traffic disruptions and requires fewer people on the street vs. manual tape removal methods.
All things being equal, these machines require less labor to remove tape vs. manually removing the tape.
Reduces workers' fatigue and increases productivity on every job.
Fewer job-related injuries due to tape removal.
The MINI-WINDER™ has transformed a difficult, messy manual task into an EASY and efficient process.
Patented swivel arm pivots from side to side in seconds.
Less physically demanding than manual tape removal.
Fewer steps are required, from tape removal to disposal.
The removal process creates neatly wrapped tape rolls vs. piles of tape.
Tape waste rolls save space on support vehicles.
Easy onsite loading of tape waste rolls makes disposal efficient.
The MINI-WINDER™ offers the most Functional, FAST, and Versatile tape-removing machine that the pavement marking industry has ever seen.
Remove tape faster and safer than pulling by hand.
Reduction of required man hours for tape removal.
Shortens traffic delays compared to manual tape removal.
Job completion time is exponentially reduced.
Mini-Winder™ Specifications
Linear Feet of Tape Pulled per (Full Core Caddie = 35 Cores)

Up to 11,900 linear feet of 6" Tape

(340' per core / 6")

Up to 17,500 linear feet of 4" Tape

(500' per core / 4")

6.5 HP Honda GX200cc Pull-Start Engine
Onboard Core Caddy: 35 cores max
Versatility: Connects to any line driver or use as a walk-behind machine.
Hand-Pump release agent sprayer
Hydraulics
Single-Stage Hydraulic Pump

Bidirectional spool motor
Chassis
Patented Pivot Arm
Low center frame
Counterbalance weight optimized
Dimensions
6'L x 5'W x 40"H
Length: Casters to end of handlebars
Width: Pivot-arm to counterweight