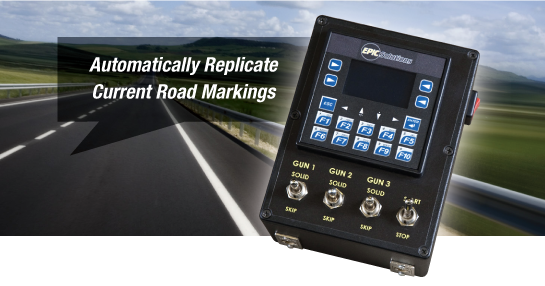 GPS Pre-Marking
Pre-mark roads that need to be striped, then monitor on the map what work has been done and what is left to complete. Use to determine scheduling, and track crew performance. Paired with M7 Monitoring™ it will record road markings and log inventories to the current road with GPS coordinates.
View Brochure
RTU ROAD TRACING UNIT
WITH THE EPIC SOLUTIONS RTU ROAD TRACING UNIT YOU ARE ABLE TO:
Capture current road markings exactly as they are placed on the road.
Automatically paint the road as it was prior to roadwork.
DMI included.
BENEFITS
Save captured road markings of specific jobs.
Built in DMI.
Performs as-built on Markings.
Distance automatically measured, no more manual marking.
HOW IT WORKS:
While driving the road, the operator turns the switches on or off to designate what type of line is on the road.
Next, upload information into the EPIC Skip Timing System.
Information is used to tell paint guns when to turn on/off.
After painting, you will have the same markings as when you started.