The Cone Setter CS 3100 saves lives and labor by automating the placement of cones. Workers load cones from inside the truck bed. No one walks or hangs off the side of the truck. This patent pending RAM product can prevent the senseless loss of life that occurs when workers setting cones are hit by passing vehicles or simply fall from the truck.
Download Brochure
EASY OPERATION OF THE CONE SETTER CS 3100
You won't get nearly as tired running the CS 3100 as you would setting cones by hand. It is as easy as 1-2-3: 1. Mount the CS 3100 onto any flatbed truck, 2. Have one or two workers, depending upon speed desired, slide cones into the cone magazine from inside the truck bed, and 3. With hand held control, you can control cone spacing manually or use the standard programmable timing package. The cones simply slide down the chute and stand up on the road. It doesn't get much easier than that!
The CS 3100:
Requires only a driver and one person in back to load cones into the machine.
Manually sets cones at desired intervals.
Easily programmed electronic timing mechanism can set intervals automatically.
Can set cones from either side of the truck, while moving forward or backward.
Easy to operate with hand held controls.
Works with standard 15″ base cones up to 28″ tall as well as with 36″ tall cones.
Faster than manual cone setting.
Depending upon worker's ability to load cones, the CS 3100 can set them at up to 15 mph.
Weighing only 57 lbs it can be mounted for use in less than two minutes.
The mount system fits easily into common stake pockets found on most flatbed trucks.
Reduce risk of injury and death.
Improve productivity.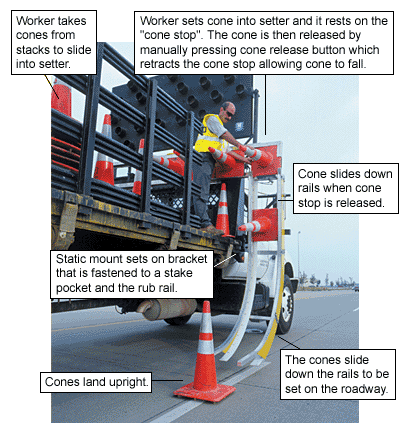 STANDARD FEATURES OF THE CONE SETTER CS 3100
This RAM comes fully equipped with everything you need to get started saving lives and saving labor through automation right away. The CS 3100 mounts to either side of the truck, with a static mounting system. Just plug it into your vehicle's 12 volt DC power source. It works with standard base 15″ cones up to 28″ tall as well as with 36″ tall cones. The Programmable timing system makes cone placement simple. Additional features that make it even more convenient are optional.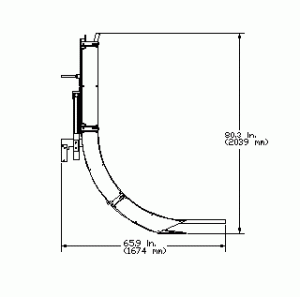 The Cone Setter was designed to handle most cone sizes, up to 28″ or 36″ cones. Cones are placed in a track at the top of the machine at intervals to determine cone spacing on the road. It is over 7 feet tall and mounts onto a flatbed truck.
CS 3100 Specifications
Length: 65.9″ (1674 mm)
Width: 23.8″ (603 mm)
Height: 80.3″ (2040 mm)
Weight: 57 lbs. (125.7 kg)
Min air required: 4.5 SCFM @ 80 PSI w/ 20 gal reservoir
Frequently Asked Questions