The Cone Handling System series of machines consists of a cone setter and your choice of either the CR 3200 Cone Retriever, for cones up to 28″ tall, or the CR 3236 Cone Retriever, for 36″ cones. After using the Cone Retrievers, you'll wonder how you ever picked cones up by hand. These machines only require a driver and one person in back to unload the stacked cones from the unit. No one hangs off the side of the truck and no one jumps on and off to retrieve tipped cones. The cone retrievers can pick up cones in any orientation, standing or lying down, at up to 15 mph.
The CR 3200 and CR 3236 are built solid to take the abuse sustained from retrieving cones at high speeds, yet can set up in a matter of minutes by one person using the standard electrical hydraulic mounting device. And all this while saving lives, saving labor through automation.
EASY OPERATION OF CR 3200 AND CR 3236 CONE RETRIEVERS
Let your hands do the walking instead of your feet. What used to be labor-intensive and dangerous is now easy and safe. To retrieve cones in the past, workers needed to either hang off of a truck to grab cones while the truck was moving, or to jump off of the moving truck to get tipped cones. They often did this within just a few feet of passing traffic. Instead, the Cone Retrievers only need you to:
Move the machine into place using the electrical hydraulic unit,
Drive along cones in roadway that are tipped or standing,
Let the machine pick them up,
Have workers unload the stacked cones from machine with specially designed grabber hooks. All of this can be accomplished at up to 15 mph, depending upon the spacing of cones and the abilities of the worker(s) to keep up with the machine.
"One of the most difficult things to do is pick up cones that have tipped over. You either need to lean way down, or get off of the truck. That's not a problem any more with RAM."
Randy George
District Manager, Northern District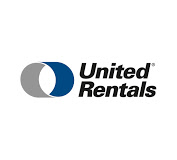 United Rentals Highway Technologies
Benefits include:
Easy to operate with hand-held controls.
Requires only a driver and one person in back to unload cones from the RAM unit–NO ONE HANGS OFF THE TRUCK.
Pick up cones from any position (standing or lying down in any orientation) and stack them for the operator. No one has to jump off of a moving truck to retrieve tipped cones.
Retrieval speed varies by number of cones–up to 15 mph.
Setup takes only minutes and can be done by one person.
Reduce risk of injury and death.
Increase efficiency and productivity.
Lower labor costs while saving lives.
Stacks up to five cones at a time before needing to be removed from machine.
CR 3200 picks up standard 15″ base cones up to 28~T tall.
CR 3236 picks up cones up to 36″ tall.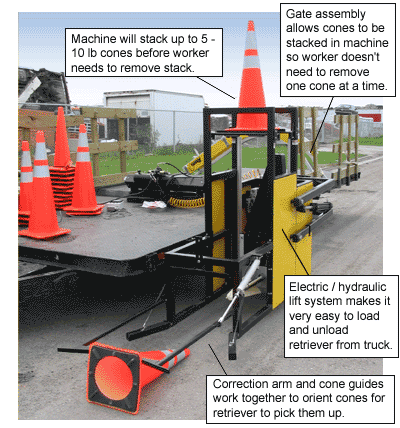 STANDARD FEATURES OF THE CR 3200 CONE RETRIEVERS
Specially designed cone retrieval hooks.
Electric/Hydraulic mounting system.
12 volt DC power.
Options:
Static mounting system
Gas powered air compressor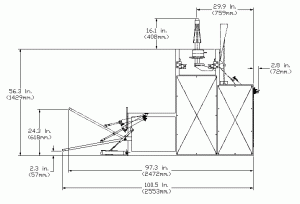 SPECIFICATIONS
Cone Retriever CR 3200 and CR 3236 Specifications
Length: 100.5″ (2253 mm)
Width: 34.4″ (871 mm)
Height: 80.4″ (2032 mm)
Weight: 463 lbs. (210 kg)
Minimum air required: 16 SCFM @ 100 PSI with 20 gallon reservoir.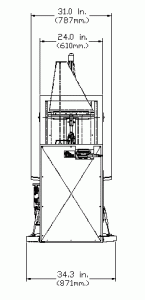 Frequently Asked Questions