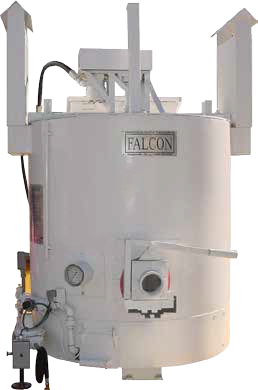 Falcon™ Air Jacketed Kettle
The Falcon™ Air Jacketed Kettle rapidly and effectively melts thermoplastic granular or block material. The built-in agitator is designed with bottom and side wiping blades to prevent material build-up and optimum blending. For use with a large variety and type of thermoplastic applicators.
Features
Falcon kettles are cylindrical shaped to conserve space while providing superior melting performance. They are manufactured with accessible hardware components for ease of preventative maintenance and repair.
All kettles are constructed of heavy gauge steel. The agitation shaft is firmly suspended in the tank; with variable speed control and reversible action providing optimum agitation efficiency. The agitator blades are engineered to evenly blend the molten material, with complete bottom and side wiping action, preventing material build-up while maximizing circulation.
The discharge valve is designed to open and close with no requirement for external heating.
Heat is supplied via diesel or propane fuel for maximum efficiency and continuous reliable long-life performance. Only quality parts go into each of our Falcon Kettles. Manufactured for safety, all Falcon kettles come with a high-temperature limit switch to prevent overheating of thermoplastic.
Falcon Kettles can be configured as standalone units, pairs, triples, or quad with optional inter-connections. You may purchase them with or without installation for your truck, trailer, or skid.
250,000 – 450,000 BTU burner systems
Cylindrical design for heating and melting efficiency
Variable speed agitation with forward and reverse action for optimum blending
Agitator designed with bottom side wiping blades to prevent material build-up
High temperatures limit switch to prevent overheating thermoplastic material
Custom kettle sizes from 600 lbs. to 4,000 lbs.
Kettles can be connected for increased melting capacity
Options: three-door loading chute, direct-drive agitation, electric ignition
| | |
| --- | --- |
| Fuel Type | Propane, Diesel |
| Insulating Jacket | Air |
| Material Capacity | 1000 lbs., 1200 lbs., 1500 lbs., 2000 lbs., 2500 lbs., 3000 lbs. |