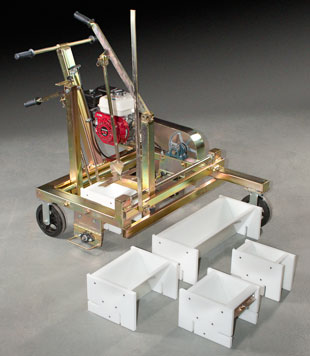 EPIC SOLUTIONS MMA 2000 PUSHCART FEATURES:
Simple set up – uses MMA material right in the bucket.
Easy to clean.
Quick and easy to change boxes — 4″, 6", 8", 12" and 24″ boxes are available.
Flat line or path finder – 6 hp powered path finder spike bar.
Speed Indication.
Other model variations available.
Capable of Flat line and Pathfinder
EPIC Solutions pushcart MMA applicator is a gravity-fed spatter system. It creates an even application without pumps or spray nozzles to clog. It is capable of a flat line and pathfinder. The pathfinder spike bar is powered by a 6 hp Subaru engine. The MMA2000 has multiple box sizes, pattern bar, and drag box available. Different line sizes are as simple as a box change. The box simply slides on to holder and locks into place.