Removing markers can be as risky of a venture as apply them. Any time a worker must walk on the road surface, it can be dangerous. The patent pending marker remover TPM 2200 is so safe and simple to use that it only takes one worker. The truck can stay in the desired lane, as the machine works from either side of the truck. This RAM will also save lives and labor through automation.
EASY OPERATION OF THE MARKER REMOVER TPM 2200
Whether you want to cut the tops off markers or pull them entirely from the road surface, the TPM 2200 Marker Remover is easy to operate. All you have to do is 1. Attach the TPM 2200 to any truck with a receiver hitch and a 2″ coupler, 2. Start the easy pull engine, 3. Get into the truck, 4. Drive over tabs to be cut or pulled, 5. Stop periodically to empty the collection bin, 6. Finish the job in much less time with much less risk. A simple blade change converts the machine from cutting mode to pulling mode.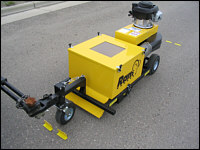 STANDARD FEATURES OF THE MARKER REMOVER TPM 2200
The Marker Remover TPM 2200 has many features that make it both safe and efficient. It removes reflective markers without the worker having to walk on the road. This is not only safer for your employees, but considerably faster. Get a RAM and get off the road!
Cutting blades or pulling blades.
Removable collection bin for cut/pulled tabs.
Adjustable cutting height.
2″ ball coupler.
Tires: 4.10-4NHS rear/2.80-4NHS front.
Benefits include:
TPM 2200 can be placed on either side of truck.
Truck can stay safely in the desired lane.
Only needs a driver to pull unit and empty collection box.
Cuts to ½" from surface, or pulls markers from surface completely.
Much faster than manual removal, up to 5 mph.
Vacuums up scrap marker pieces and pulled markers.
Easy disposal of marker pieces from machine.
PERMANENT MARKERS
The capabilities of the RAM marking system have expanded to include half track markers and raised markers. This option has dramatically expanded the uses and versatility of these innovative products.
BUNZL MARKERS
For optimal operation, we recommend Bunzl collated markers.
TPM 2200 Specifications
Length: 78.6″ (1996 mm)
Width: 26.5″ (673 mm)
Height: 32.6″ (828 mm)
Weight: 163 lbs. (74 kg)
Maximum air flow: 1100 CFM
.
Frequently Asked Questions