The temporary pavement marking system's TPM 2100 applies "L" shaped reflective markers in adjustable patterns with greater accuracy than manual application. The patent pending design has many standard features that make it simple to operate. In addition to saving time, energy, and shoe leather, the TPM 2100 will save lives and labor through automation.
Download Brochure
EASY OPERATION OF THE MARKER APPLICATOR TPM 2100
Putting temporary pavement markers down manually is a dangerous, labor-intensive process.
Workers walk down the highway,
Peel off the paper cover on the tab.
Estimate distance and placement.
Bend over to put a marker in place.
Stomp on it to make it stick.
Compare that to the TPM 2100 Marker Applicator. You won't believe how simple this is to run!
Hook the power cables up to the vehicle's 12 volt DC system.
Put a worker safely into the truck bed.
Drive while the worker in back loads the markers into the machine. This RAM machine is operable at speeds of up to 5 mph.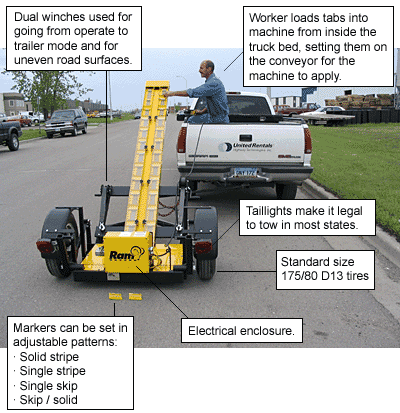 STANDARD FEATURES OF THE MARKER APPLICATOR TPM 2100
The Marker Applicator TPM 2100 comes with everything you need to get started saving lives and saving labor.
Diagnostic messages on touch panel screen.
Adjustable patterns: single stripe, double stripe, single skip, skip/solid.
Dual winch system.
ST 175/80 D13 tires.
Standard taillights with flat 4 connector.
2″ ball coupler.
12 volt DC power.
.
Benefits include:
Easy to set marker patterns with programmable hand held control.
Driver can stay in desired lane, reducing accidents.
More accurate and faster than manual stomping.
Requires only a driver and one person in back to load markers onto the conveyor.
Adapts to most vehicles with a receiver hitch.
Saves time and energy.
Reduces risk of injury and death.
Adaptable to uneven road surfaces.
Works with most tabls — Bunzel collated markers recommended for optimal performance.
TPM 2100 SPECIFICATIONS
The marker applicator was built using the latest technology to make it simple, easy to use and efficient. It's small enough to store easily when you aren't using it. The dimensions below show its larger size when it is in travel mode, and the smaller dimensions when it is in operate mode.
TPM 2100 Specifications
Length: 89.6″ (2276 mm)
Width: 59.3″ (1505 mm)
Height: 80″ (2032 mm)
Weight: 560 lbs (254 kg)
Frequently Asked Questions